Discover the Véritable® CONNECT garden, the smart and connected indoor garden. Its dedicated free application enables you to follow the development of your plants, choose the lighting mode and be warned when the water tank is empty. Let yourself be guided... it's easy and quick for guaranteed success!
Adapt'light™ technology : The light sensors adjust the LED's intensity based on your house ambient light.
Includes 4 Véritable® Lingots®: Sweet Basil, Curly Parsley, Chives and Thyme
Specifications
Passive hydroponic culture
Professional LEDs, Low power, without UV
Power supply, 100-240 V, 50-60Hz, plug adapted to your country
Compatible with Véritable® Lingots® only. Bluetooth compatibile. Free application for iOS and Android
100% designed, assembled and made in France
Guarantee
Our Véritable® Gardens have a 2 year warranty.

All Lingots® have a satisfied or exchange guarantee!
Quick and easy setup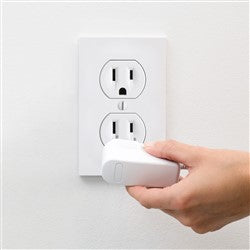 Plug in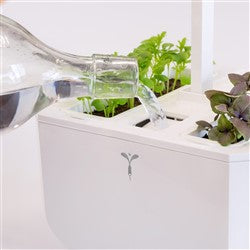 Fill the reservoir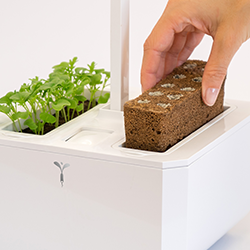 Insert Lingots®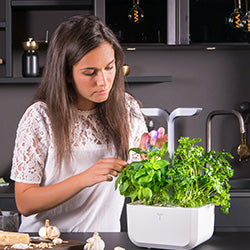 Harvest and enjoy!
Reviews
Véritable® LED technology
Our high-end Véritable® LED technology is the result of 2 years of research and development. It employs a color spectrum adapted specifically for edible plants. The special color and performance ensure quick growth and develop the flavor of your plants.
The light is automatically controlled : it remains active for 16 hours a day and off during 8 hours in order to imitate the natural daylight cycle.

The Veritable® Garden doesn't need any natural light to grow, you can put it in a room without any windows.
The two lighting poles adjust independently to adapt to different plant sizes and growth speed.
Véritable® Lingot®
Enjoy the Véritable® Lingot® technology (patent-pending) : 100% natural and ready to use refills.

Grow more than 70 varieties of plants thanks to the Lingots® : aromatic herbs, edible flowers, baby herb salad and baby vegetables.
Easy to use and efficient, the Lingot® composition is specific for each plant and contains :

-Organic seeds
-Organic soil
-Nutrients essential to each plant

All the parameters are controlled and optimized (PH, humidity, nutrients concentration, roots aeration, spacing between seed, depth) which ensures regular harvests.

The Lingots® are 100% compostable et biodegradable. They contains no pesticides nor GMOs. The Lingots® can be stored 1 year before use, in a cool and dry place. After this time, the germination rate can decrease.