This must-have tool is useful for manual pollination of wild strawberries, mini bell peppers and hot chillis. 
Pollination
 is the act of transferring pollen grains from the male anther of a flower to the female stigma. It is the way that plants can produce fruits and vegetables. The Veritable® Pollination brush allows you to pollinate the flowers of your Lingots® of fruits and vegetables such as wild strawberries, mini bell peppers and hot chillis. Outdoor cultivation requires the intervention of insects or wind, indoor cultivation requires human intervention. This pollination brush is ideal for fertilizing your flowers: its fine, soft hair and its diameter are perfectly adapted to this function.
Guarantee
Our Véritable® Gardens have a 2 year warranty.

All Lingots® have a satisfied or exchange guarantee!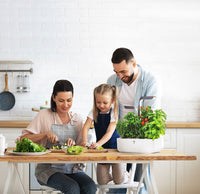 Gardens for every home
Véritable® indoor vegetable gardens are designed to allow everyone to grow a variety of 68 edible plants at home. Rediscover your favorite herbs and veggies, their real flavors, textures, and above all their nutritional benefits right in your own home. By adopting a Véritable® indoor vegetable garden, you are sure to harvest your own plants rich in nutrients, taste, and above all which have been cultivated with love! 
Explore Véritable® Gardens
Reviews