GROW... HARVEST...ENJOY...THAT'S ALL YOU HAVE TO DO!

Grow effortlessly
Don't have a green thumb? The Véritable® Garden takes care of everything!

Fresh & tasty
Harvest fresh and tasty aromatic herbs, according to your needs

Natural
No pesticides, no GMOs, simply natural

All year round
Summer or winter, harvest and enjoy all year round!
Explore Veritable® Smart Gardens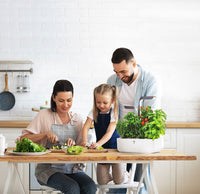 Gardens for every home
Véritable® indoor vegetable gardens are designed to allow everyone to grow a variety of 68 edible plants at home. Rediscover your favorite herbs and veggies, their real flavors, textures, and above all their nutritional benefits right in your own home. By adopting a Véritable® indoor vegetable garden, you are sure to harvest your own plants rich in nutrients, taste, and above all which have been cultivated with love! 
Explore Véritable® Gardens
Our Véritable smart garden
Choose your Lingots
Lingots are ready-to-use refills that we have created and patented especially for growing plants. They contain all the essential elements for the growth of your herbs. And that good! No pesticides or GMOs. It's a turnkey solution: you don't have to add anything!
Shop Lingots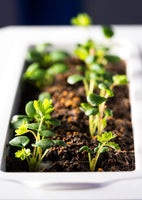 The Lingot : the new vegtal / green gold !
What do our indoor gardener think ?
I was always throwing away half of the basil, now I harvest it fresh, and I get some again the next week. So tasteful.

Gary D.
Easy, with the water tank I don't need to think about anything, it just grows.... even in winter

Maryleen O.
I can finaly have sage and fresh celeri. I can't get enough of it and so many more lingots to discover.

Sandy G.