Grow your aromatic herbs, edible flowers and baby vegetables all year round without any effort. Don't have a green thumb? The Véritable® Garden takes care of everything!
The Smart Garden automatically adjusts the LED's intensity depending on the ambient light, to distribute the perfect amount of light to your plants.
Includes 4 Véritable® Lingots®: Sweet Basil, Curly Parsley, Chives and Thyme
Specifications
Passive hydroponic culture
Professional LEDs, Low power, without UV
Power supply, 100-240 V, 50-60Hz, plug adapted to your country
Compatible with Véritable® Lingots® only
100% designed, assembled and made in France
Guarantee
Our Véritable® Gardens have a 2 year warranty.

All Lingots® have a satisfied or exchange guarantee!
Quick and easy setup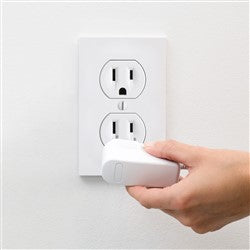 Plug in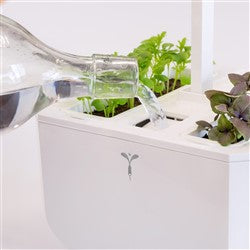 Fill the reservoir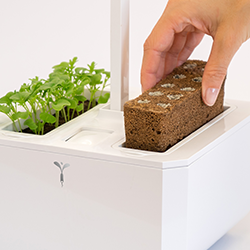 Insert Lingots®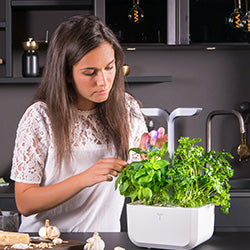 Harvest and enjoy!
Véritable® LED technology
Our high-end Véritable® LED technology is the result of 2 years of research and development. It employs a color spectrum adapted specifically for edible plants. The special color and performance ensure quick growth and develop the flavor of your plants.
The light is automatically controlled : it remains active for 16 hours a day and off during 8 hours in order to imitate the natural daylight cycle.

The Veritable® Garden doesn't need any natural light to grow, you can put it in a room without any windows.
The two lighting poles adjust independently to adapt to different plant sizes and growth speed.
Véritable® Lingot®
Enjoy the Véritable® Lingot® technology (patent-pending) : 100% natural and ready to use refills.

Grow more than 70 varieties of plants thanks to the Lingots® : aromatic herbs, edible flowers, baby herb salad and baby vegetables. Easy to use and efficient, the Lingot® composition is specific for each plant and contains:

- Organic seeds
- Organic soil
- Nutrients essential to each plant

All the parameters are controlled and optimized (PH, humidity, nutrients concentration, roots aeration, spacing between seed, depth) which ensures regular harvests.

The Lingots® are 100% compostable et biodegradable. They contains no pesticides nor GMOs.

The Lingots® can be stored 1 year before use, in a cool and dry place. After this time, the germination rate can decrease.